Hastings Direct Telephone Number: 0871 472 1695
Hastings Insurance Services Ltd, better known as Hastings Direct, provides a range of home and vehicle insurance for homeowners, vehicle-owners and businesses. If you need to speak to a Hastings representative, please use one of the options listed below.
Special two-part charging arrangements apply when calling 0871 numbers:
Access charge
Set by your phone company and charged whenever you call any number starting 084, 087, 09 or 118.Varies from around 13p per minute on landlines to up to 78p per minute from mobiles.
Service charge
An extra charge that benefits the organisation you are calling. They are responsible for informing you of what charge rate applies. Up to 13p per minute, 13p per call or a combination of both.
Contactphonenumbers.co.uk directs your calls to the correct companies.The phone number listed on this page is a premium number of an IVR directory service voice index. Telephone numbers starting with 0871 are charged at 13ppm plus the operator access charge. You can contact the companies displayed in this page, free of charge, via their website. Callers must be 18 years plus and have the bill payer's permission. contactphonenumbers.co.uk is not associated in any way with the companies listed on this website.
1. BY TELEPHONE
Operating Hours: Monday to Friday, 8.00 a.m. to 9.00 p.m.; Saturday, 9.00 a.m. to 5.30 p.m.; Sunday, 10.00 a.m. to 5.00 p.m.
• General Lines: 0871 472 1695
Telephone numbers starting with 0871 are charged at 13ppm from a landline plus the operator access charge.
• Incident Reporting: 0333 321 9800 (open 24 hours a day, 365 days a year
Note: All telephone numbers below with an asterisk open 24 hours a day, 365 days a year
• Customer Service: 0333 321 9801 and 0871 472 1695
• Policy renewal: 0333 321 9790
• Policy Renewal (Home): 0333 321 9681
• New policy quote: 0333 321 9675
• Claims (UK): 0333 321 9800*
• Claims (EU): +44 1424 738 585*
• Breakdown (UK): 0333 321 9680*
• Breakdown (EU): +44 1737 815 876*
• Complaint: 0871 472 1695
Policy Cancellation: 0871 472 1695.
* Please note that all calls to numbers starting with 01 and 03 listed above are charged between 8p and 13p/mins when using landlines and between 20p and 55p/mins when using mobiles. Calls made from outside the UK will be subjected to additional tariff and may incur international roaming charges. Calls to 0800 numbers are free of charge.
Telephone numbers starting with 0871 are charged at 13ppm plus the operator access charge.
2. BY EMAIL
If you would like to communicate electronically with Hastings Direct, here are several e-mail addresses that you can use.
Customer Relations: customerrelations@hastingsdirect.com
Press Office: pr@hastingsdirect.com (Maria Morritt or Natalie Sadlier, +44 (0)1424 738225)
Investor Relations: ir@hastingsplc.com (Louise Underwood, Director/ +44 (0)1424 738366)
Company Secretary: cosec@hastingsplc.com (Tony Leppard)
3. BY POST
Dealing with insurance companies like Hastings Direct entails the possibility of sending letters and documents for policy or claims-related matters. As such, it is prudent to have the company's postal addresses handy. Here are the addresses of all three of Hastings Direct offices:
• Head Office
Conquest House
Collington Avenue
Bexhill-on-Sea
East Sussex
TN39 3LW
• Newmarket Office
Rosalind Franklin House,
Oaks Business Park,
Fordham Road,
Newmarket,
Suffolk,
CB8 7XN
• Leicester Office
1 St George's Way
Leicester,
LE1 1SH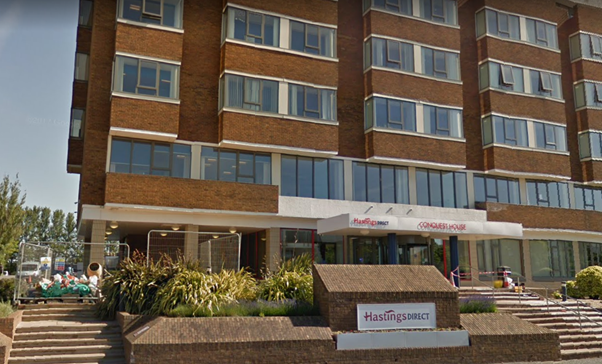 Hastings Direct headquarters in East Sussex. Image by Google Maps, permissible under fair use license.
4. SOCIAL MEDIA
Hastings Direct has a fairly active presence on the social media. You can connect with them to keep tabs with the latest news in the industry using the URLs below.
• Facebook: https://www.facebook.com/HastingsDirect/
• Twitter: https://twitter.com/hastingsdirect
• YouTube: https://www.youtube.com/channel/UCgAqn0glWEfGoi6aj1jVBhw
• LinkedIn: https://www.linkedin.com/company/hastings-direct
• Google+: https://plus.google.com/+hastingsdirect
5. FILING A COMPLAINT WITH HASTINGS DIRECT
Hastings Direct takes great pride in its efficiency and level of service. So much so, the company publicly publish its complaint statistics for public scrutiny. If you wish to file a complaint with Hastings Direct, you may choose from one of the three available channels.
Online Form

Hastings Direct provides customers with an easy way to file a complaint using its online complaint form. Simply write down the nature of your complaint, type in your contact and policy details, and press submit.
Email
If you prefer a less formal method, send your complaint by email to customerrelations@hastingsdirect.com. Remember to include your policy and contact details to ensure a speedy response.
Post
To submit a complaint by post, please send your letter to the Customer Relations Department at
Hastings Direct
Conquest House
Collington Avenue
Bexhill-on-Sea
East Sussex
TN39 3LW
A Hastings Direct representative will revert back with an acknowledgement of your complaint within five days of receipt of your complaint, and thereafter, assign an officer to look into the matter. The company aims to resolve all complaints within eight weeks of receipt.
If Hastings Direct is unable to provide you with a satisfactory resolution to your complaint, you may escalate your grievances to the Financial Ombudsman Service, which is an agency created by the Parliament to assist in resolving disputes between end users and businesses. Give the agency a call at 0800 023 4567 or 0300 123 9123 for an immediate consultation. If you would like to go forward with your complaint, simply fill in and submit an online form with details of your case. Alternatively, you can also download a copy of the form, fill it, and post it to the Ombudsman at
Financial Ombudsman Service
Exchange Tower
Harbour Exchange Square
London
E14 9SR
ABOUT HASTINGS DIRECT
Hastings Direct is the trade name used by Hastings Insurance Services Ltd, a UK-based, and Australian-owned, insurance broker. The company, which was established in 1997, also markets various other insurance products using other trade names, such as, Hasting Essential (barebones car insurance) and Insure Pink (which donates £10m to breast cancer-related charities for every policy purchased).
Hastings Direct is highly respected in the industry owing to its high level of professionalism; being chosen as UK's Car Insurance Provider of the Year for three consecutive years (2014-2016) is a testament to that.
Despite its sterling reputation, Hastings is still largely a regional player, as evidenced by its relatively small revenue of £570 million in 2016. This is probably due to the fact that the company rarely expands out of South East England.
USEFUL HASTINGS DIRECT URLS:
HASTINGS DIRECT OFFICIAL WEBSITE: https://www.hastingsdirect.com/
HASTINGS GROUP WEBSITE: https://www.hastingsplc.com/
Disclaimer
The phone number listed on this page is a premium number of an IVR directory service voice index.

Calls to 0871 numbers cost up to 13p/min plus your phone company's access charge.

contactphonenumbers.co.uk is not associated in any way with the companies listed on this website

The phone numbers listed on this site may not be the direct number to the business customer service department.

You can contact the companies displayed in this page, free of charge, via their website

Callers must be 18 years plus and have the bill payer's permission.

Calls cost 13p/min plus your phone company's access charge